Eta,who was first a hurricane and then degraded to tropical storm, returned to the Caribbean this Friday after leaving a trail of devastation and deaths in Central America.
The region is dealing with the severe consequences of huge floods and landslides caused by torrential rains falling this week on Friday.
The count of casualties and damage is still uncertain, as many people are missing and entire communities are incommunicado by the collapse of access roads.
"We estimate that between the deceased and the missing, the unofficial figures are more or less 150 dead," Guatemala's President Alejandro Giammattei arrived to say on Friday about the situation in his country.
The vast majority of these victims, yet unconfirmed, are located in the Quejá village of the northern municipality of San Cristóbal Verapaz, which was largely buried by an alud.
According to the representative, a preliminary report by the rescue brigades indicates that in this village some "150 dwellings were buried and 100 deceased people are estimated", although the bodies were not yet located.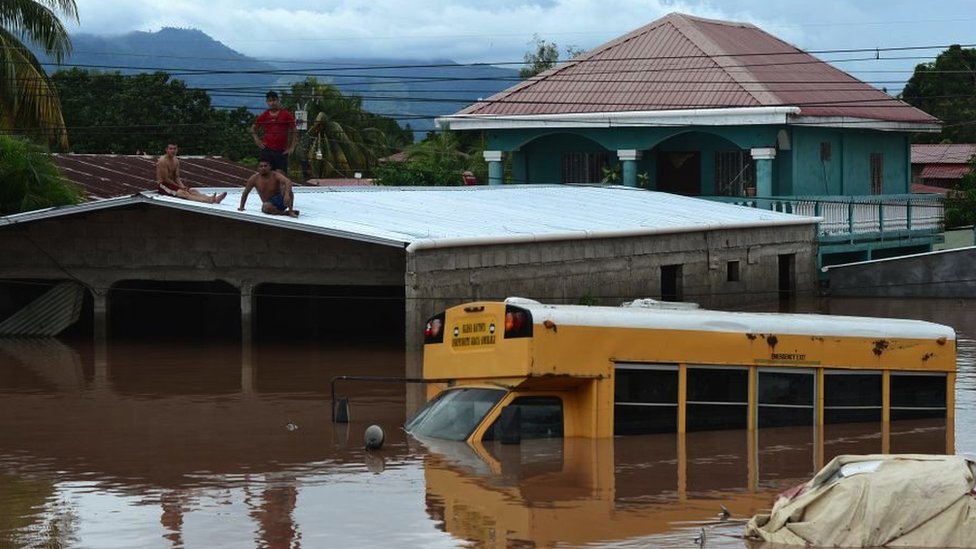 Thousands of affected people took refuge on the roofs of the houses waiting to be rescued after the flooding of their streets.
Eta left dramatic images of people about to be dragged by the force of rivers overflowing with rain or trying to get to safety with water above the waist.
Even this Friday thousands of people are isolated and waiting for help, especially in Guatemala and Honduras.
"There are no official figures, but some 200 families are still on the roofs of their homes waiting to be rescued" in the Honduran Sula Valley, he told BBC Mundo this Friday morning Edgar Medina, coordinator of the northern area of CARE Honduras, an organization specializing in disaster and emergency relief.
According to Medina, the overflow of the nearby Ulúa River was so rapid that people didn't have time to leave their homes and desperately sought refuge on their rooftops.
"The only way to get to them is with boats but there weren't enough, so fishermen from nearby communities made their own available and mobilized to help these people who have been on their roofs for more than 30 hours," he says.
Social media witnessed the desperation of survivors, who in recent hours posted hundreds of messages with images and their location for emergency teams to rescue.
Julio Guerrero was one of those people, who turned to Facebook for help after becoming trapped in the Celeo Gonzáles colony of San Pedro Sula.
 
Finally, Julio was assisted on the night at the last hour of Thursday but warned that "hundreds of people remained to be rescued, but the strength of the water stream makes it an impossible mission."
"We lost everything, absolutely everything,but I trust In God that we will succeed. Health and emotionally wrong, but the important thing is that we are alive to be able to recover," he wrote this Friday.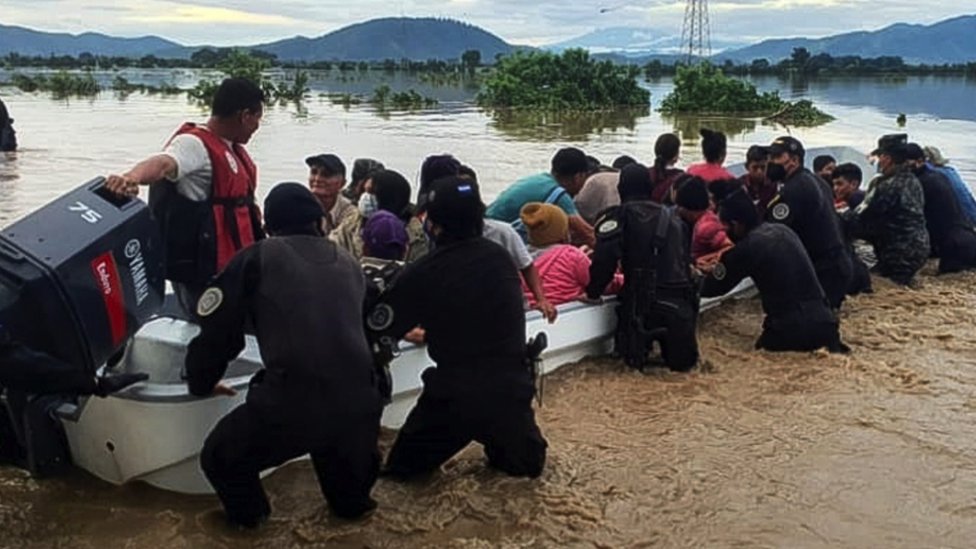 Access to many places where survivors remain trapped can only be done by boat.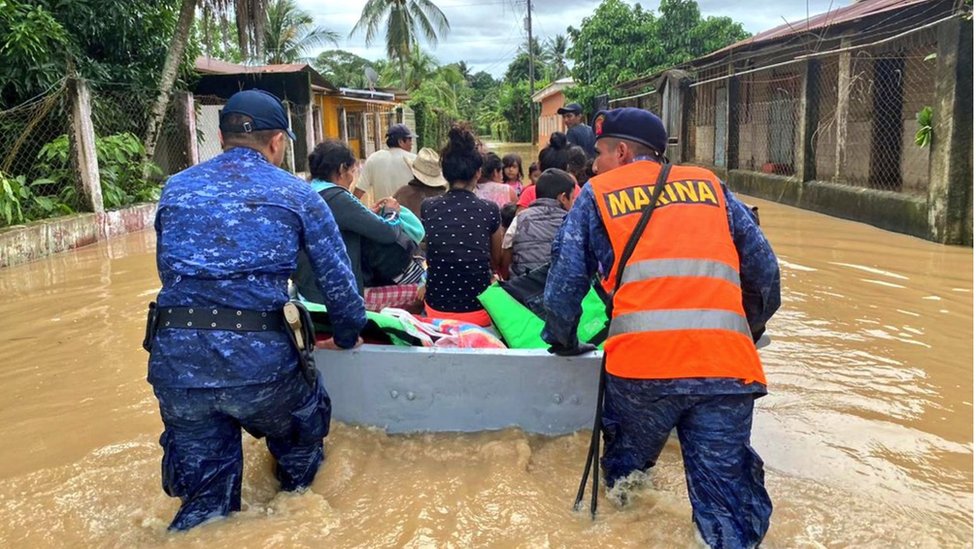 There is not yet an official balance sheet, but it is estimated that tens of thousands of people have been directly affected by Eta in Central America.
In northern Honduras, some of the most affected areas are colonies of the municipality of La Lima and San Pedro Sula, whose airport was completely flooded.
"Here in La Lima we need everything, water, food, clothes, medicines, boats to care for those affected; 80% of the municipality is damaged," one of Lima's municipal officials, cited by the Efe agency, told reporters.
In Guatemala, large numbers of villagers in the departments of Izabal, Alta Verapaz and Baja Verapaz also protected the the floods on the roofs of their homes, from where they continued to be rescued this Friday.
Rescue teams from both countries were strengthened this Friday with staff and equipment such as boats and helicopters to try to rescue survivors and reach hard-to-reach areas.
There is not yet an official balance sheet, but it is estimated that tens of thousands of people have been directly affected by Eta in Central America.
Thousands are housed in hostels and some lost all their belongings.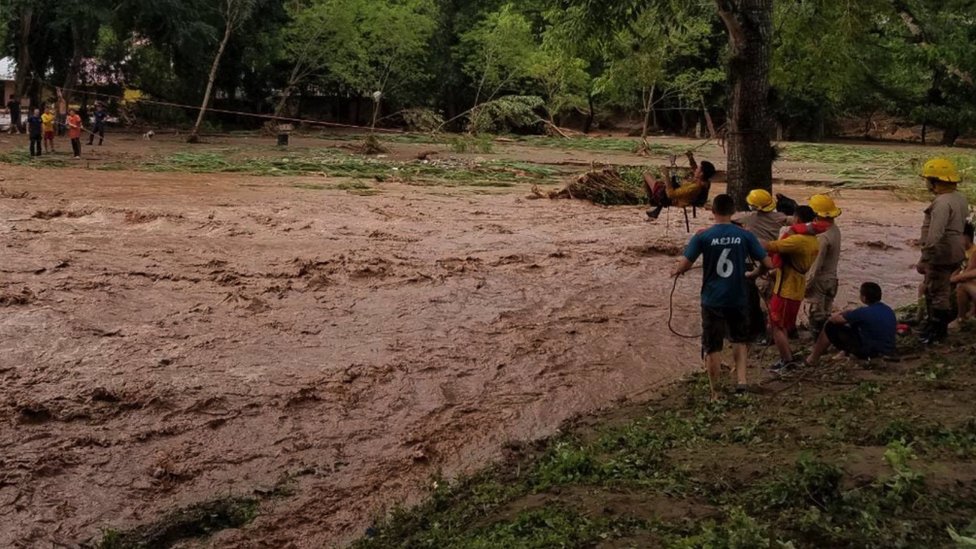 Some roads and accesses to communities were completely impractical by water.
Fatalities, missing persons and thousands of evacuees were also reported in Nicaragua, Panama, Costa Rica and El Salvador.
Given the scale of the tragedy, Honduras on Thursdaycalled on the international community to provide humanitarian and financial assistance to the country.
Guatemala's president reported Friday on first confirmed donations to the country, such as food and hygiene kits from the US and Taiwan, or helicopters sent from Panama.
Although Eta is heading for Cuba and the southern United States, authorities in Central America called for not to let their guard down for fear that remnants of tropical depression could continue to cause precipitation and further deadly landslides for the population.
Now you can receive notifications from BBC World. Download the new version of our app and activate them so you don't miss our best content.