Amari Bailey is a famous basketball player at Sierra Canyon high school. He is also a UCLA commit. He had played basketball with Sierra Canyon alongside Bronny James. In a recent report, it was out that he won the California High School Basketball Player of the Year award. This was one of the reasons why he recently came into the limelight of the news headlines.
However, one interesting thing that came out in the news report was that it was Drake who guided him in the background. There are also reports that Drake and Johanna Leia, Amari Bailey's Mom, both were caught on a date together. This news has made fans speculate about who is Amari Bailey's mom? who actually is Amari Bailey and what is the relationship between his mom and drake.
Who Is Amari Bailey's Mom, Johanna Leia?
Johanna Leia is a television personality and a former model. She is also the joined cast of the Lifetime reality series Bringing Up Ballers. Previously, Johanna was working with Ford and Wilhelmina Models. She is an American national who was born on February 19th, 1981. Her net worth is estimated to be around $1-$5 million.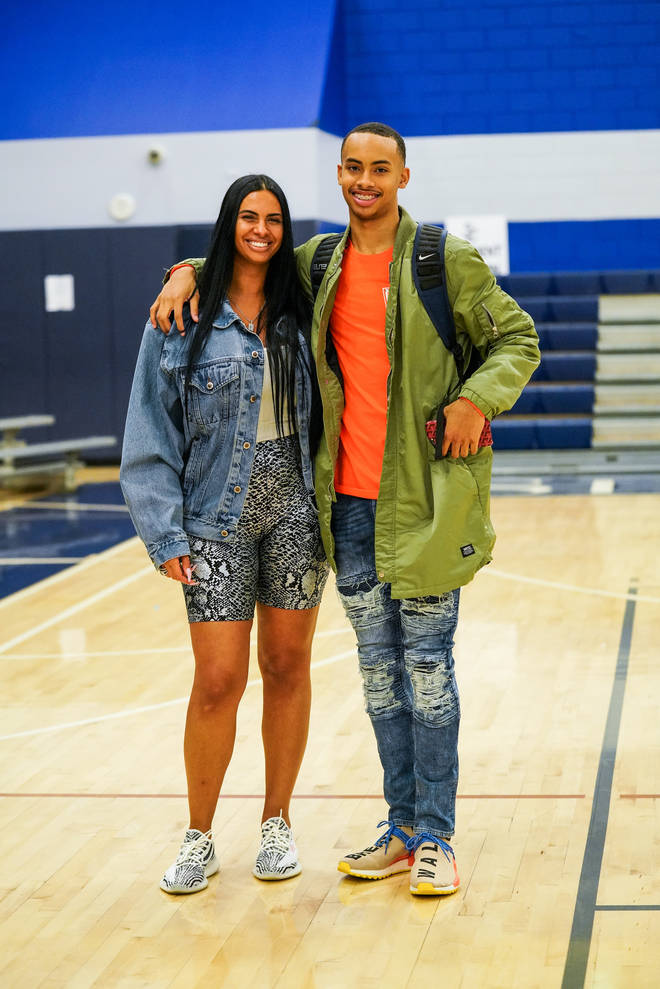 Image Source: Capital Xtra
Amari Bailey Mom, Johanna Leia came to highlight recently because of his outings with Drake. Johanna's ex-husband is Aaron Bailey who is a famous NFL athlete. if we believe the media reports, she has already been divorced from her husband. The rumors say that she is currently dating the famous rapper artists Drake.
Recently, fans noticed that both Drake and Johanna attended her son's Amari Bailey match at Sierra Canyon High School. The reports also say that Drake has also gifted diamond chains to her son as a gift. This definitely shows us that something is going on between Amari Bailey's mother and Drake.
Johanna Leia & Drake Relationship Rumors
The rumors of Drake and Johanna Leia being together spread on the internet like a tornado. Many reports say that the two individuals are dating each other and this came out when the duo was spotted together at Sierra Canyon High School Basketball stadium. After that, we also saw how Amari Bailey posted a picture on his Instagram where he is showing off the diamond necklace gifted by Drake.
Image Source: The Global Coverage
Well, fans were already confirmed of their relationship when they spotted Drake and Johanna together but this actually kind of confirmed it. The duo was spotted enjoying dinner together in a beautiful open-air restaurant. Besides that, the Dodger's stadium where they were sitting together was also completely empty. The couple's picture was captured through a helicopter and showed how much they were enjoying each other's company.
After her picture went viral on the internet and on various social media platforms, fans started speculating about their relationship. Another interesting story we found in media reports was that Amari will soon start playing with LeBron Jame's son. Both of them have represented the basketball team at Sierra Canyon High School and are quite close friends.
Who Is Amari Bailey?
Amari Bailey is a famous sportsperson and a basketball player. He was born on February 17th, 2004, in Chicago. He is a very talented American basketball player and has completed his schooling at Sierra Canyon School of California. Amari is a smart, young, and eclectic boy who has made his team win several reputed awards and titles. He has also earned the title of Mr. Basketball Player of the Year and his article was published in Los Angeles Daily News.
Amari Bailey has conquered the position of a top basketball player in 2022. When he was 13 years old, he pledged to play Basketball for his inspiration DePaul. However, due to uncertain circumstances, he withdrew before entering high school. After that, he went to UCLA and began his recommitment towards basketball. Amari Bailey's father Aaron bailey, was himself an outstanding football and basketball player at Louisville University.
Drake's Career Life
Drake or Aubrey Drake Graham was born on October 24th, 1986 in Toronto, Canada. At present, he is one of the most talented, successful, and recognized Canadian rappers, singers, and songwriters. He first gained recognition during his appearance in the television series "Degrassi: The Next generation.
After this, he started his own releases and Drake released his first debut mixtape Room for Improvement in 2006. The next one was Comeback Season in 2007 and then So Far Gone in 2009. After all these, today Drake is recognized as one of the most influential kings of the hip hop era.
In the year 2016, his official song summer was released which was an immediate hit amongst the audience and reached the top list. Drake is now entirely dominating the music industry and no one is actually there to challenge him. If we go by the reports, Drake has at present more than 100 hit songs in his bag and he has also won the award for the best rapper in the top Summer chart.
Drake has actually proved that hard work and dedication in the right way with the right passion can surely bring you all the success of the world. With so much popularity in his bag, it is not possible that he would be able to hide his personal relations as well. Now let's see how far Drake and Johanna's rumored relationship goes.
Stay tuned to our website to know more gossip about their relationship and how far they will stay connected to each other. What are your views on Drake's and Johanna's relationship? answer us in the comments section below.